| | |
| --- | --- |
| Versione Italiana | International Version |


Sostieni la IACA - Il tuo intervento è prezioso!


Support the IACA - Your intervention is precious!


Per Donazioni e Offerte



For Donations and Offers

Conto Corrente Postale - 001027003696 - Associazione IACA - Onlus - Assisi

Conto Corrente Bancario intestato a Associazione IACA:
Casse di Risparmio dell'Umbria S.p.A.
IBAN IT44 N 03069 3828 810000 0006641
BIC/SWIFT BCITITMM

Il modo più semplice e che non ti costa nulla: quando fai la dichiarazione dei redditi,
il 5 PER MILLE dell'imposta che sei comunque tenuto a versare può essere dato a beneficio della IACA,
semplicemente firmando la relativa casella e indicando il codice fiscale dell'associazione che è: 94036900549.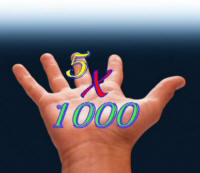 Guarda perchè abbiamo bisogno del 5 per mille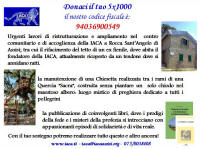 Per ogni chiarimento puoi telefonare al numero +39 075 8038408 o scrivere per e-mail a iaca@iacaassisi.org o infoiaca@iaca.it

To support the association, one can:
1) Send a donation through bank transfer:
From abroad:
IBAN: IT44 N 03069 3828 810000 0006641
SWIFT/BIC: BCITITMM

2) Donate properties, land or other personal possessions


Ecco cosa dicono di noi:
Grazie Angela per i bellissimi auguri di Natale.

Ti confido un piccolo mio segreto, ogni giorno apro il computer, vado dritto al vostro sito per dare un'occhiata in giro, solo per vedere che cosa la IACA e Massimo stanno per fare. Questo mondo è benedetto dalla vostra presenza e le vostre azioni.

Vi prego di accettare i miei auguri sinceri e le quanto mai umili preghiere per un bello e Beato Natale 2013 e anno nuovo 2014. Voi e la vostra comunità sarà nelle mie preghiere.

Con Amore e Benedizioni sempre

Joe Cahill
Article on the Community Families of Bethlehem published
in this journal
What they say about us:

Thank you Angela for the beautiful Christmas wishes.

I'll let you in on a little secret of mine, everyday I open the computer, I go straight to your web site and have a look around, just to see what the IACI and Massimo are up to. This world is blessed by your presence and actions.

Please accept my sincere wishes and ever so humble prayers for a beautiful and Blessed 2013 Christmas and 2014 New Year. You and your community will be in my prayers.

With Love and Blessings always

Joe Cahill
Year of our Lord 2012

Love and Peace,
do you remember me Professor Massimo Coppo? One evening of July in the Municipal Square in Assisi I came up towards you, and you donated me a book of yours. I have carefully read in it and as a practicing Christian I say that the Lord Jesus Christ has chosen you to form this association to help others. On my first return to Assisi, I would be encouraged to meet in person Your Community. On this occasion I want to dedicate you the words written on the novel "The Human Revolution" by the Nobel Prize for Peace: Daisaku Ikeda:
"Nothing is more precious than peace; Nothing brings more happiness, peace is the starting point for the advancement of humanity."
May the Lord Jesus protect you in every moment of your days.
Fernando.

www.iacaassisi.org

www.ciai-fondazione.org


" OPERE " CHE NON SI TROVANO IN INTERNET
Interessanti, attuali eventi mondiali
" WORKS " WHICH YOU DON'T FIND IN INTERNET
Interesting, current world events