IACA: INTERNATIONAL ASSOCIATION FOR CHRISTIAN ACTION
---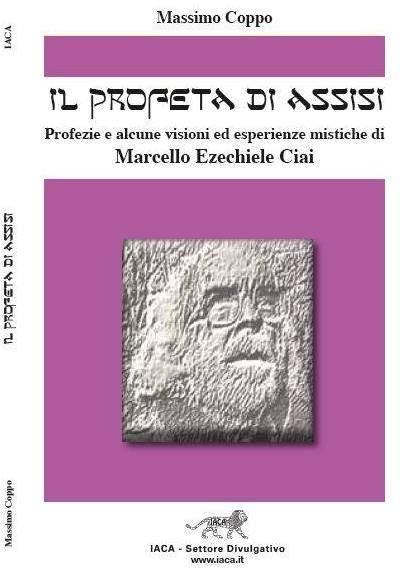 B

ooks on a prophetic work risen in Assisi

more than

thirty years ago,

that

will involve

the world

.
Assisi - IACA ( International Association for Christian Action), began at the end of the 70's, when Marcello Ciai, a business-man from Assisi, decided to dedicate his life to comprehending and living the message of the Gospel of Jesus Christ, renouncing the love for money and success. Marcello Ciai succeeded in forming a small community of people who shared his choice; the inspiration of his life is the Benedictine rule "orat et labora". IACA originates thus from the desire to spread the spiritual principles which animate Marcello Ciai's choice, and to extend the community.
Today 3000 people are associated to the IACA, which enters in the Register of Associations of Voluntary-service and has two locations, one in Assisi and the other one in Gaiche of Piegaro, where besides the reception of the associates they also take care of foreigners, needy and handicapped people or those afflicted by particular diseases, offering the first-aid of board and lodging in emergency-cases and giving hospitality to whoever wants to restore himself physically and spiritually. Moreover IACA collaborates for the environmental protection and safeguard and for the security-service of fire-fighting.
Among the various jobs the associates do in the category of agricultural-, handicraft- and zootechnical activities, are the care of the breeding of the Chow-Chow dogs, a breed, it is said, which is particularly suited to children and people with psychological problems, and also the breeding of Chinchillas for pets.
The project IACA actually is trying to realize, concerns a construction, at Gaiche (a hamlet of Piegaro on the hills above Lake Trasimeno, in the province of Perugia), to be assigned for a center of research and assistance for patients afflicted by the Alzheimer-disease. This is a project tor which the founder, Marcello Ciai, is particularly committed, because his mother, Rina Ricciarelli Ciai, who died at the age of 84 years, was afflicted for the last 15 years of her life with this awful disease.
More information on the association, the story, organisation, aims and protagonists you can find on: www.iacaassisi.org