LITTLE CHURCH ON THE SACRED OAK
(A MARVELLOUS MYSTIC PLACE AT ASSISI)
On the side of an old cottage at the IACA seat at Rocca Sant'Angelo of Assisi, rises a majestic centuries-old oak tree that plunges its roots in the rock. Some time ago Marcello Ciai conceived the dream to realize there, for the glory of God and for the good of many souls, a small church on top of it, set among the branches of that mighty oak. A friend and collaborator very attached to him, has gone along with this desire by designing in his heart and realizing with his own hands a surprising work: the "Little Church on the Sacred Oak". Marcello remained surprised in observing him shaping stones or wood, not as a simple mason or carpenter, but following the inspiration with which a sculptor or a painter progressively bring to completion their works of art.

A dear friend writes:

"... We have known yesterday a place that radiates
light for all the Creation,

which renders service to the Son and consoles
our Savior Jesus.

A "necessary" place that you have taken on
for the Glory of God and the good of humanity ... "

A german Poet writes:

"The chapel where angels meet"

A tiny wooden Chapel built high
in a sacred 3000 year old oak tree
you climb high wooden steps and
enter a holy place
and before you even start to say a prayer:
peace and blessings are showered from above
bubbles of joy permeate your being
you smile and almost don`t want to breathe
words seem to come from nowhere:
"This is the chapel where angels meet"
*****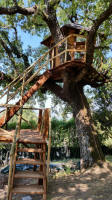 To pray with us e-mail us: infoiaca@iaca.it or call us: 0758038408